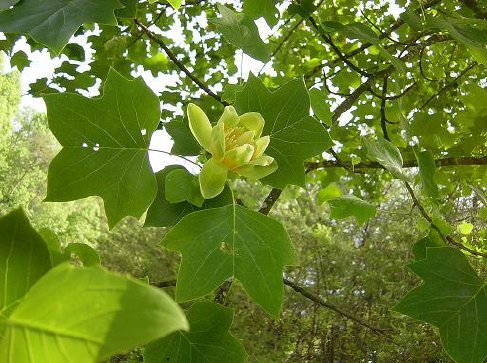 This picture of the Golden Poplar tree blossoms and leaves should make it clear why the Tennessee State tree is called the "Tulip Poplar."
The Sweetpea provides a solid wood instrument for beginners at a great price. It is constructed of thoroughly dried Golden Poplar, also known as Tulip Poplar. The Poplar is sturdy, stable, and has a clear voice. The Sweetpea is made with the same construction methods used on other Papaw's instruments. The straightforward design and easy to work Poplar are the key to excellent performance and affordability.
This Sweetpea dulcimer carries the Comet soundhole design .
Also available are: Classic "f" holes or Crosses.
Specifications
Open String Length: 26 1/2"
Width: 6 3/4"
Length: 36"

Price:
$ 275 plus shipping and applicable taxes






Each one with . . . "A Voice So Clear It Almost Speaks the Words"
Return your Sweetpea (in good condtion) within a year and get a $150 credit on your next Papaw's Dulcimer.
Read about the special Sweetpea Upgrade deal below.